Are you ready to ditch your paper planner and go digital?
Eliminate overwhelm, connect to your vision and create a plan for action with this complete digital planning and productivity system!

It's hard to make progress on your goals when you're stuck in overwhelm
Raise your hand if you...
Love buying new planners but always seem to abandon them after a few weeks

Scribble random notes on paper or in your notes app because you never seem to have your planner on hand when you need it

Struggle to find your "planner peace" or a format that fits the way you want to plan

Have notebooks and printouts scattered all over your desk and can never seem to keep things organized

Feel frustrated with the lack of flexibility in your online calendar and task management apps

Have big goals and dreams but struggle to make a plan you can stick with
A few years ago, I would have been raising my hand right along with you. Since I couldn't find a solution for myself, I created one!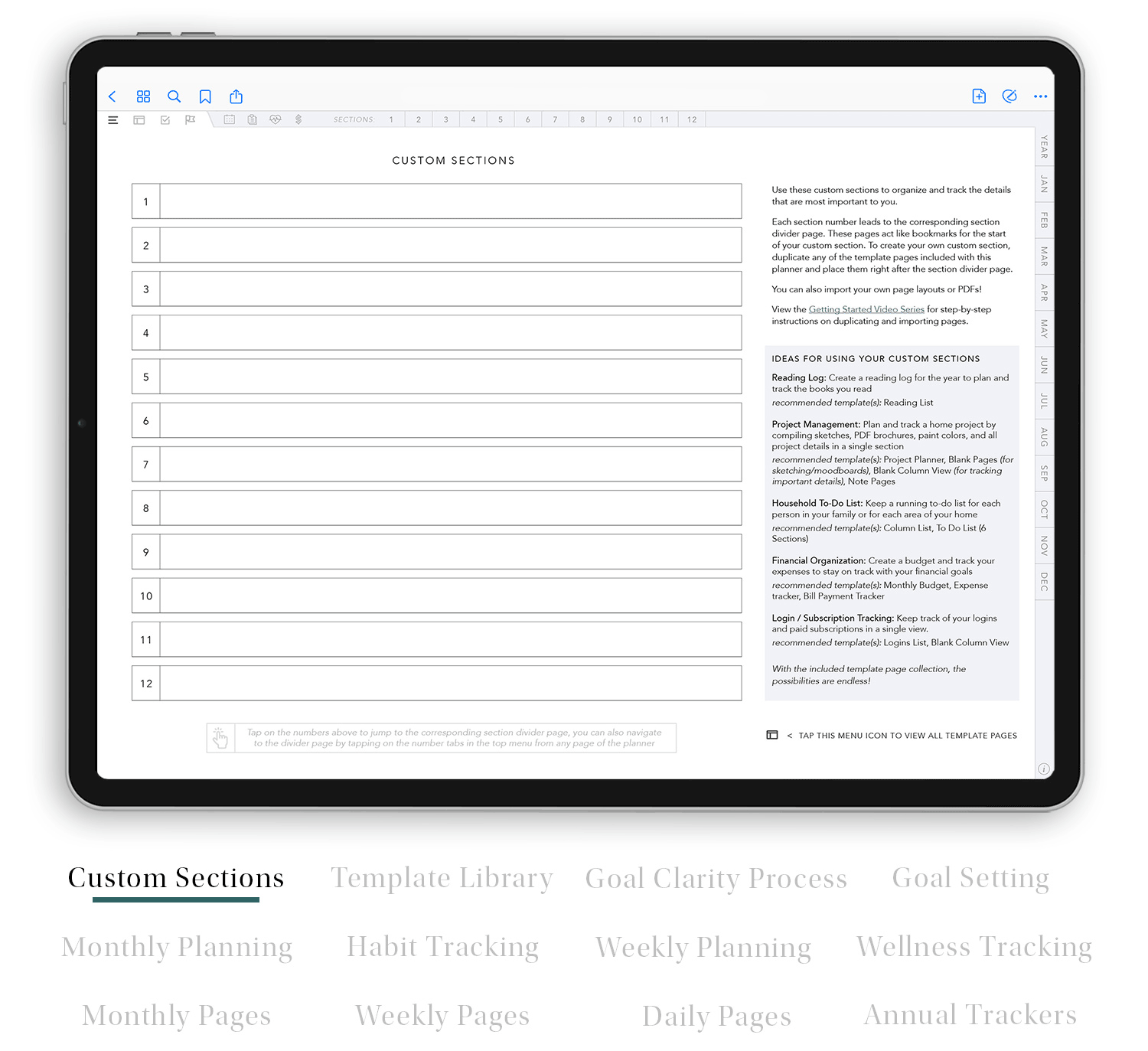 This complete planning system bridges the gap between paper and digital so you can finally get organized and create a plan to achieve your biggest goals!
This Digital Planner is packed with features and extras

Hyperlinked monthly, weekly and daily dated pages make planning and navigation quick and easy

Use the included page layout "widget sticker" image collection to customize the dated monthly, weekly and daily pages

Complete, guided goal achievement system. Capture your vision, plan your time, set your goals, and create an action plan each week

Create your own custom sections to keep yourself organized! Section divider pages are hyperlinked from each page of the planner for easy navigation

Bonus Weekly + Monthly Pages
Each weekly and monthly dated page is linked to three bonus pages for more extensive planning and tracking throughout the year
Track your most important details throughout the year. From important dates to your health and finances, these four tracking pages will keep you focused

Duplicate any of the included template pages to build out your custom sections. From workout tracking to budgeting, there's a template for everything!

Add a little personality to your planner with the bonus decorative digital sticker collection (over 400 sticker images total!)

New to digital planning? No problem! This guided video series will walk you through all the basics




Monthly Dated Pages: Map out your month and capture big milestones. You can quickly jump to any month through the "tabs" along the right side of the planner.
Weekly Dated Pages: Capture your priorities for the week. You can jump to your weekly pages by tapping the week number along the left side of the monthly pages.
Daily Dated Pages: Block your time and manage your priorities and to do list. Daily pages are linked from both the monthly and weekly dated pages, so you can always quickly jump to your daily page from any planner spread.
Week Start Options: This purchase includes 2 versions of the planner: one with Monday start weeks and one with Sunday start weeks - choose to use whichever version you prefer!

"Widget" sticker collection allows you to quickly add content blocks to your dated pages to fit your planning needs - add schedule blocks, priority lists, habit trackers and more

This guided process walks you step-by-step through clarifying your focus for the year, managing your time and setting goals.
This system is designed to help you gain the insight needed to set goals that will help you reach your ideal future vision for your life.
The "Goals at a Glance" page links out to individual planning pages to create a detailed plan for each goal.
Your goals will become the foundation for your weekly and daily action planning, so this page is linked through the flag icon in the planner top menu to make it quick to refer back to.


In addition to the basic, monthly calendar spread, I've also included three bonus pages hyperlinked to each month:
1. Monthly Tracker: track your habits and mood throughout the month
2. Monthly Reflection & Planning: set yourself up for success by reflecting on your previous month and setting your focus for the next month.

3. Blank Page: use this page for sketches and random notes or add your own layout with an "insert page" full page layout image

In addition to the basic, weekly calendar spread, I've also included three bonus pages hyperlinked to each week:
1. Weekly Reflection & Planning: set yourself up for success by reflecting on your previous week and pinpoint your focus for the next month.
2. Weekly Wellness: track your sleep, exercise and nutrition all on one page.

3. Blank Page: use this page for sketches and random notes or add your own layout with an "insert page" full page layout image

This planner includes 12 customizable sections. Each of the 12 custom sections correspond to one of the number tabs on the top menu of the planner. These numbers each link to a dedicated divider page that serves as a section "bookmark".
You can use these custom sections to build out collections of pages based on your needs - monthly habit trackers, collections of meeting or class notes, expense logs, etc. I've created a "how to" video to help you make the most of these custom sections.


This library of bonus page layouts can be duplicated as many times as needed. You can use these bonus layouts for specialized planning, running lists, tracking habits or important information, taking notes, etc.


In digital planning, "stickers" are essentially PNG images with transparent backgrounds. You can place these images on any page of your planner to add decorative elements, trackers, or labels — just like you would use physical stickers in a paper planner!
I've included an extensive collection of over 400 stickers to get you started.
GoodNotes Users: I've compiled all of these stickers in a digital "sticker book". This makes it easy to browse your sticker collection and quickly select, copy and paste any sticker you want to use.
For Non-GoodNotes Users: I've included all of the individual PNG image files in an organized .zip folder so you can easily insert each sticker individually into your planner through the PDF markup app you use (e.g. Notability, Xodo, Drawboard)


Decorative Covers & Labels
When you import planners or other documents into your PDF markup app (Goodnotes, Notability, etc.) the first page of the document ends up becoming the "thumbnail" or cover image in your document library within the app.
So I've included a collection of 16 alternate cover pages and specially designed sticker images that you can use to replace the default planner cover and add your own personality to the cover of your planner. This is purely decorative, but it's a fun way to make your planner your own!


As an added bonus, I've included a mini planner for October to December 2021. This is a simplified version of the full 2022 planner that includes only the dated monthly, weekly and daily pages. It's the perfect way to get started with digital planning before the new year begins!
This planner has the quickest loading pages I've used. The design is clean and simple which makes it the easy to customize. I like the sticker book that comes with the planner which allows for more customization. I recommend this digital planner above all the others I've bought in the past.
This is just what I was looking for

Easy to navigate and the extra sticker book with all the pre-cropped stickers is a game changer for me. I had just about given up on finding a digital planner until I came across a you tube video. The how to and explanations were spot on. Also quick response when I had a question. Can't wait to see what else will be offered.
I have used an Erin Condren for the last few years, and I thought it was time I moved to digital planning. I searched for hours for a minimalistic planner that I would also be able to use stickers in, and when I'd almost given up I found this one. It is absolutely perfect! It can be everything that I need in one place. I have finally found my planner peace!
What is Digital Planning?
Digital planning recreates the experience of using a paper notebook or planner right on your iPad or tablet device. It gives you the same freedom and flexibility you have on paper with the convenience of working digitally, it truly is the best of both worlds!

You can use these files on a standard desktop or laptop computer, but a tablet and stylus allow you to recreate the "pen and paper" feel by handwriting your notes.

Digital planning template files are designed to be imported into a PDF markup note-taking app (GoodNotes or Xodo are my top picks). The app allows you to add notes, images, etc.

The template files include all the layouts and organization of your planner and notebooks, you'll import these files directly into your note-taking app.
I have been digital planning for 3 years and I have purchased many digital planners looking for one that meets my needs. I have FINALLY found that planner!! This is by far the most customizable planner I have ever found. I am a homeschooling mom and with this planner I can lesson plan for my two kids and manage my schedule all with this one planner!





This could be your new reality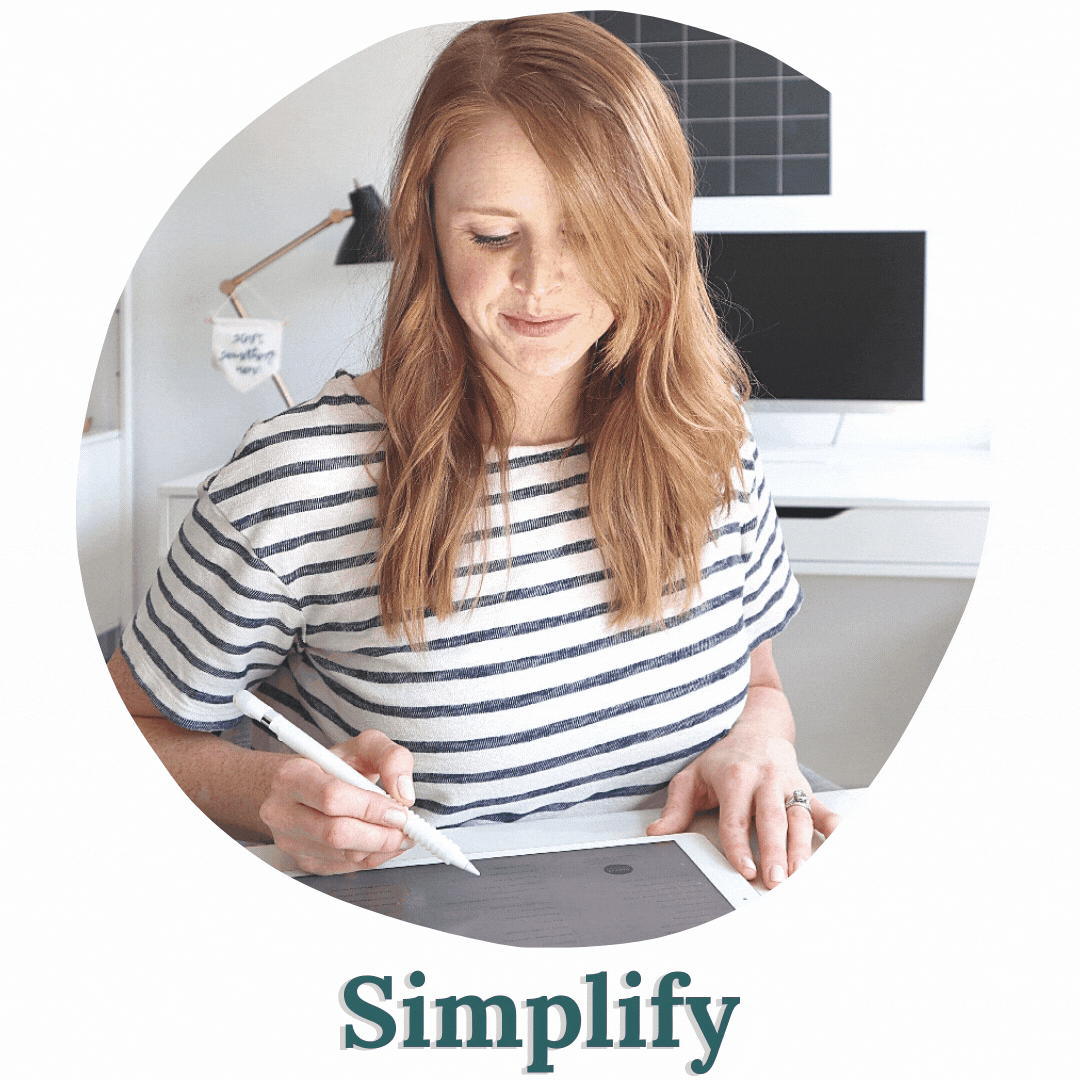 No more carrying around multiple notebooks, printing PDFs or searching through stacks of paper, everything is available right on your tablet.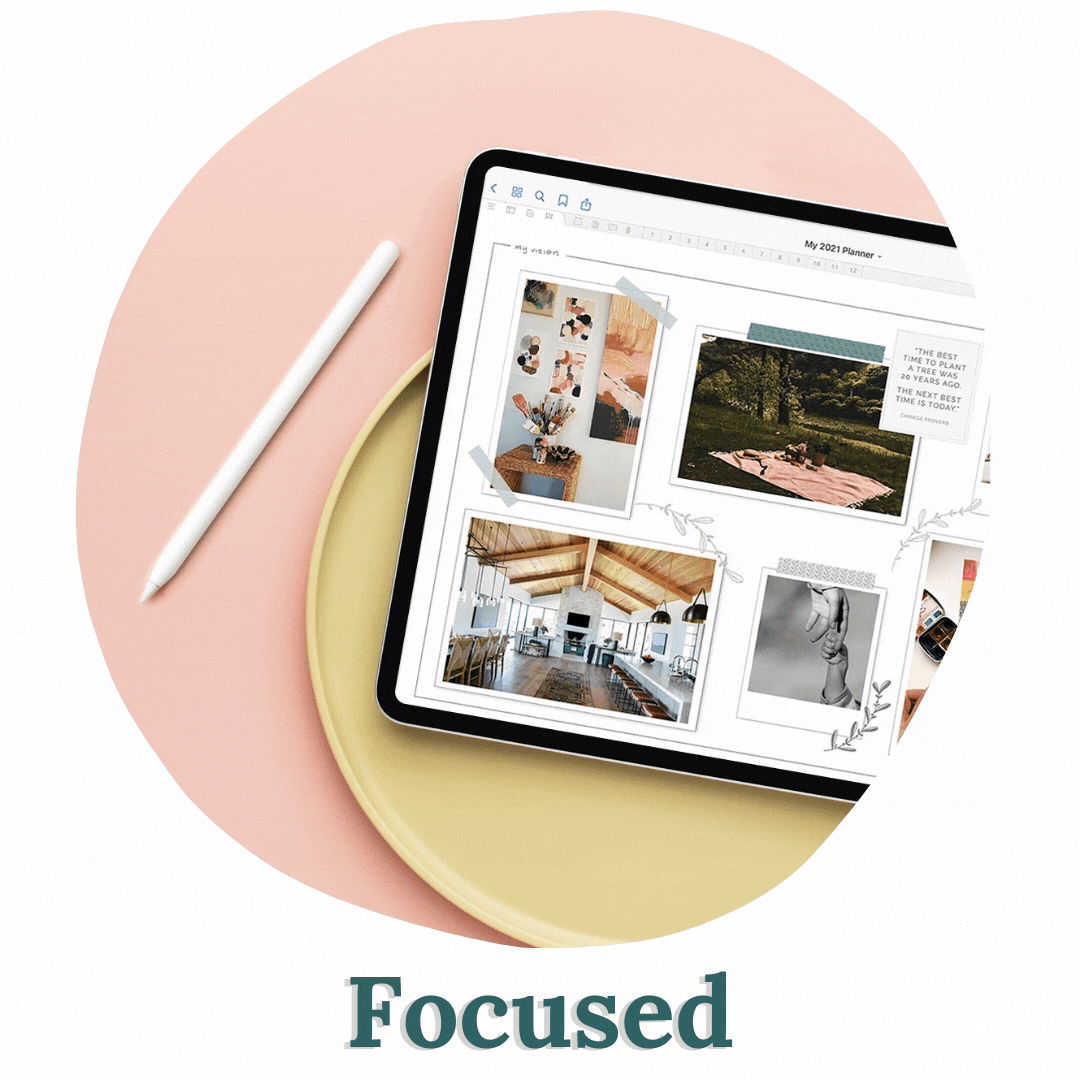 Set actionable goals that are aligned with your overall vision for your life. Stay focused on what matters most by starting each day with clear priorities.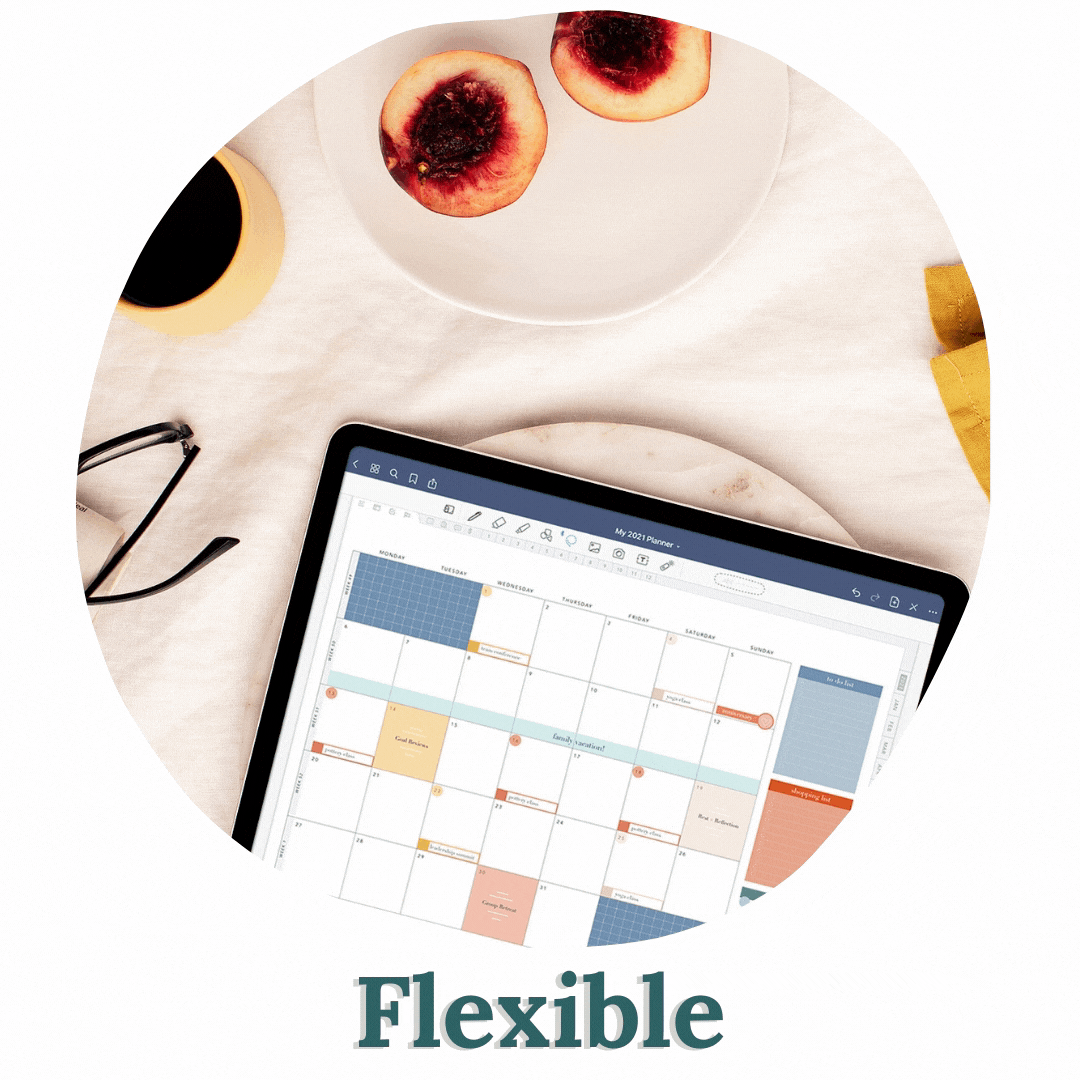 Stick with your goals even when life doesn't go according to plan. The planning prompts help you course-correct and recommit to your goals when needed.

Included with Your Planner:
Digital Planner PDF files (Monday Start AND Sunday Start options)

Guided goal setting system embedded in planner

Collection of 43 bonus template pages to build out your custom sections

GoodNotes sticker book with pre-cropped stickers

Over 400 individual decorative sticker PNG files

Collection of "widget" stickers to customize your date page layouts

Decorative cover collection (separate PDF file)

How-to video series guiding you through the setup process for your new planner

October to December 2021 mini-planner
Want to watch the planner in action?
See how simple it is to customize your pages in your new planner!
What are you waiting for? If you're ready to...
Always have your planner and notebooks on hand when needed

Declutter your desk and lighten your load

Create your perfect planning layout week after week

Clarify your goals and create a plan to achieve them

Stick with your goals even when life doesn't go according to plan
Take the first step today to make the switch from paper to digital and finally find your own "planner peace"


Want to try before you buy?
Start with a Free Sample Planner!
In this FREE email course, I'll share a sample planner and walk you through all the basics of getting started with digital planning!
Let's Connect on Instagram!